Home of the Big Red ONE!
Go Army! Hooah! No Mission Too Difficult. No Sacrifice Too Great. Duty First!
Realty Executives Weis Real Estate Company is a strong and loyal supporter of ALL those who serve and sacrifice for our country, and Fort Riley is an integral part of our military-friendly community! With two proud Army Veterans on staff, and others who actively support the US Armed Forces, we understand the unique nature of the military family and their needs. From enlisted men to Generals, across the nation and abroad, if you are looking to buy or sell your home while stationed at Fort Riley or transferring to another base and need a referral – your needs are our priority!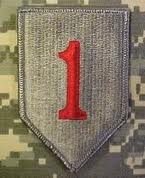 Fort Riley Military Installation
Fort Riley Military Installation
Fort Riley is named in honor of General Bennett C. Riley who led the first military escort along the Santa Fe Trail. The fort was established in 1853 as a military post to protect the movement of people and trade over the Oregon-California and Santa Fe trails. In the years after the Civil War, Fort Riley served as a major United States Cavalry post and school for cavalry tactics and practice. The post was a base for skirmishes with Native Americans after the Civil War ended in 1865, during which time General George Custer was stationed at the fort.
Later, Fort Riley became the site of the United States Cavalry School in 1887. The famous all-black 9th and 10th Cavalry Regiments, the soldiers of which were called "Buffalo Soldiers", were stationed at Fort Riley at various times in the 19th and early 20th centuries. During World War I, the fort was home to 50,000 soldiers, and it is sometimes identified as ground zero for the 1918 Spanish flu pandemic, which its soldiers were said to have spread all over the world. Since the end of World War II, various infantry divisions have been assigned there.
Most notably, the post was home to the famed Big Red One from 1955-1996. Between 1999 and 2006, the post was headquarters to the 24th Infantry Division and known as "America's Warfighting Center". In August 2006, the Big Red One relocated its headquarters to Fort Riley from Leighton Barracks, Germany.
Duty First!
Military Families, for the service you deserve, call us at 800-593-3250 today and discuss your real estate needs with a Realty Executive specialist in the Manhattan, KS, area.